SoundFrost is a unique application on the entertainment software market that is capable of solving the problem with free access to music. SoundFrost performs search, online playback and download of music on PC in 9 audio formats: MP3, WAV, FLAC, OGG, WMA, AAC, AIFF, AU, AC3. Availability of these formats enables you to play your favorite music on all types of media devices: PC, laptop, tablet PC, smartphone, mobile phone, portable media player.
SoundFrost works with the legal music base which contains over 10 million songs of various genres and styles. Owing to the state-of-the-art programming methods and approach, the SoundFrost program offers:
high-speed download of music files;
simultaneous download of multiple files at high speed and with no quality loss;
playing the songs with maximal bitrate;
fast share with friends to social network (Facebook, Twitter, Google+).
Another distinctive feature of the program is the ability to convert YouTube videos into 9 video formats: AVI, FLV, M2T, MP4, MPEG, M1V, M2V, MOV and WMV.
SoundFrost Ultimate 是一个集歌曲搜索、下载、播放于一身的软件,更难得可贵的是里面的所有歌曲都是合法下载的,可以下载 MP3, WAV, FLAC, OGG, WMA, AAC, AIFF, AU, AC3 多达 9 种格式的音频。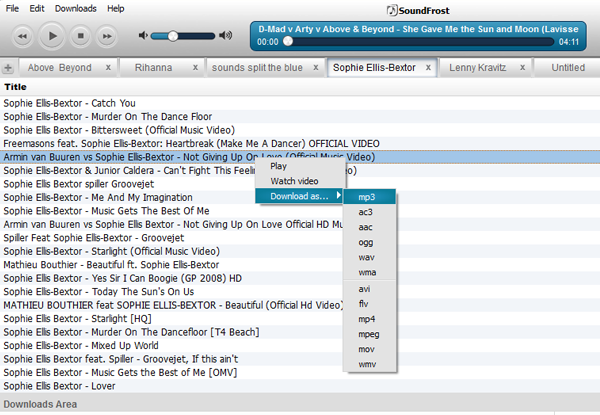 SoundFrost Ultimate 3.7.4 注册码:
User name: giveawayoftheday
Registration key: 62F0AF0F-2B41-48b3-8063-98408282B310
SoundFrost – 程序下载
SoundFrost 官方网站:http://soundfrost.org/home